Biography
Horace Trahan – Accordionist / Vocalist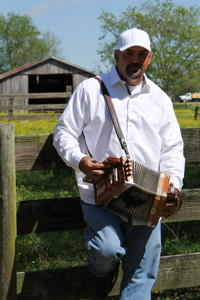 Horace Trahan, the maker of the hit single, "That Butt Thing," is a world renowned Cajun and Zydeco artist, respected for his ability to pull the hell out of an accordion and belt out vocals that will give you chills. Having over-stepped boundaries and bypassed the stereotypes of naysayers, this native of Ossun, Louisiana, has made a huge and highly anticipated comeback on the music scene!
Horace Trahan, the maker of the hit single, "That Butt Thing," in 1999, is a world renowned Cajun and Zydeco artist, respected for his ability to pull the hell out of an accordion and belt out vocals that will give you chills. Having over-stepped boundaries and bypassed the stereotypes of naysayers, this native of Ossun, Louisiana, has made a huge and highly anticipated comeback on the music scene!
At the age of fifteen, Horace wanted to learn to play the accordion. His father brought him to Felix Richard, a strong accordionist and first cousin who lived in Cankton, LA. Horace was a natural and booked his first gig within six months of learning to play.
Horace was very comfortable in a musical setting, as he had purchased his first guitar at the age of twelve and had also begun playing the saxophone in the fifth grade. It was when he combined his angelic-pitched voice with the skills he honed on a Crown single row accordion, which the musical magic began. Horace was sixteen years old when he began singing Cajun music in French and in English. Not long after making his mark on bass drum in the marching band at Carencro High School and graduating, Horace hit the road and began touring with D.L. Menard. The road schedules would take the talented eighteen year-old musician to New York, Boston, Chicago, Canada, France, California, and the summer Olympics in Atlanta.
Two years later, in 1996, Horace and D.L. Menard recorded a CD on Swallow Records. During this time, at the age of twenty, Horace also released his first CD entitled, Ossun Blues, for the same label.
Horace's music took root quickly, and he formed a band called, "The Ossun Express." The band consisted of an accordion, fiddle, guitar, bass, drums, and sometimes a triangle. This version of "The Ossun Express" never recorded, but played many local venues and festivals, making a name for the group. In the year 2000, Horace revamped his band with all new members, and they were called, "The New Ossun Express." It was at this time that Horace recorded his second album entitled, Get On Board, on the Zydeco Hound label. In 2001 they followed up with his third and final album on the same label, entitled, Reach Out and Touch a Hand, which was later renamed by its new owner, Fred Charlie, as That Butt Thing, for the title track of the same name.
Having thoroughly learned the business of owning the music you write and create, Horace's self-released albums, Keep Walking, (August 2010); his Christmas In Every Way EP, (December 2011); and All The Way, (August 2012), are extremely successful records registered under his own record label and publishing company, The Redemptive Process.
In April of 2012, Horace Trahan was called to collaborate with the Canadian, electro hip-hop band, Radio Radio, on two tracks for their third album entitled, Havre de Grace. The first song, "Y'en a qui connais," appears as track number four (4) on the CD, and features Horace Trahan as the creator of the track's title and the chorus, as well as performing accordion and vocals. The second song, "One Day/ Liberez-moi," features Horace, as the writer and singer of the chorus. "One Day/ Liberez-moi," was released as a download bonus on their label, Bonsound, later that year. Havre de Grace won 'best hip-hop album' at the ADISQ 2012 Awards and the East-Coast Music Awards 2012.
Horace's most recent music project, entitled, By Special Request, is a grand slam of a cover album, released on Maison de Soul Records in November of 2013. These musical blueprints are just a tip of the model plans for Horace Trahan and his limitless talent as an accordionist, vocalist, writer, and producer.
Since the age of three, Horace's genuine appreciation for music, is still his source of unwavering creativity, today. With influences ranging from Iry LeJeune, Aldus Roger, Lawrence Walker, Hank Williams, Hank Williams Jr., George Jones, to Wayne Toups, John Delafose, Boozoo Chavis, Beau Jocque, Clifton Chenier, Bob Marley, and Bob Dylan, there is no stopping Horace Trahan from expressing himself in any facet of music!
James Prejean – Bass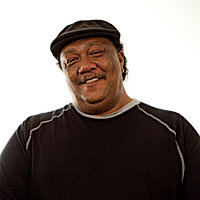 James Prejean of Lafayette, Louisiana, is a force to be reckoned with on the bass guitar. Having graced the stage for 28 years with such names as Roy Carrier, his brother, Warren Prejean and the Creole Farmers, Nathan Williams, Thomas "Big Hat" Fields, and many others, James has mastered the technique for setting bass line tones for any genre of music. He has performed throughout the United States as well as abroad with a host of bands specializing in Zydeco, Cajun, Creole, Blues, R & B, and Rock-n-Roll. James is the second of two original members of the New Ossun Express, Horace Trahan's signature band, which formed in 1999 and recorded the hit song, "That Butt Thing." Prejean's loyalty to music and family is portrayed in his cool, calm, and confident style of working that bass guitar.
Doug Garb – Saxophone, Flute, Harmonica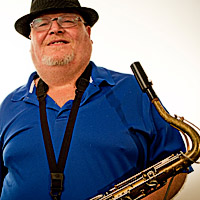 A native of New Iberia, Louisiana, Doug's musical background began when he joined the band in third grade. Coming from a family of musicians, and with support from his parents, Doug's artful talent soared. His first gig was playing the saxophone within the family band, called the Southland Show Band. After several years of performing gigs locally and cross country, Doug had created a name for himself and began engaging his soulful saxophone playing with such local artists as Warren Storm, Danny Leal, Brenda Courville, Travis Matte, and Stepback along with many others. While the saxophone gained Doug his notoriety, he is also a bonafide flute, harmonica, and clarinet player, along with many other instruments. Doug is a big fan of Clifton Chenier, Buckwheat, Lil' Buck Senegal, Willie "Tee" Trahan, Tower of Power, and of course, Horace Trahan. He is thankful to Sid Janice for the many hours of apprentice work on the saxophone; to Mr. Rodney Bernard for the friendship and the introduction to Horace Trahan and the Ossun Express; to Mr. Harold Romero, Sr. for believing when no one else did; and especially thankful to Louise for her support and love.
Rodney Bernard – Scrubboard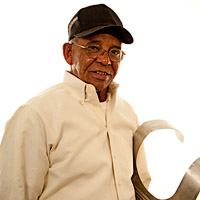 A native of Carencro, Louisiana, this pioneer of Zydeco, Creole, Blues, and Rock-n-Roll music has been playing music for over 50 years. At the age of fifteen, he began his first gig as scrubboard player for the three-man band led by Fernest Arceneaux on accordion and Wilton Bernard on guitar. It was during this time that he honed in on his drum-playing skills and transitioned his musical abilities. By the age of 18, Rodney helped to form the band known as "Guitar George & his Rock-n-Roll Band," fashioning their music to the likes of Fats Domino, Earl King, Guitar Slim, BB King, and Big Joe Turner. By the mid 1960's, he formed his successful band, "Rodney & the All-Stars," whose sounds were in the ranks with Guitar Gable, Lil' Bob & the Lollipops, and Cookie & the Cupcakes. The course of Rodney's music career included playing drums and recording on albums for Rockin' Dopsie Sr. and Marcel Dugas throughout the 70's and 80's. After a three year break from playing drums, he returned to playing the scrubboard for accordionist, Lynn August, marking a notable overseas tour with performances in Germany, Paris, Switzerland, Amsterdam, and Canada. Rodney currently plays the scrubboard for Thomas "Big Hat" Fields, and has added his veteran musical flavor on board with Horace Trahan and the Ossun Express. He is most proud of his family and his Louisiana culture, and he emits that love onstage.
Shane Bernard – Drums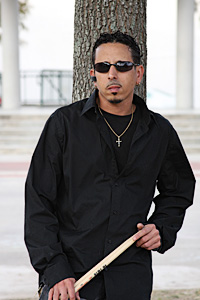 Shane Bernard of Lafayette, Louisiana, has the youthful persona of a mature teen, with the musical repertoire of an "old timer!" His journey as a musician began at the mere age of eight, when he began playing scrubboard alongside his father, Rodney Bernard, who at that time was playing drums for Sampy and the Bad Habits. Continuing sporadic gigs on scrubboard with Fernest Arceneaux and Corey Arceneaux, Shane decided to follow in his father's footsteps and try his hand at the drums. Well it must have been in the genes because twenty-five years later, drumming is still what Shane Bernard does best. Having 'sat in' as well as played drums for legendary greats such as Boozoo Chavis, Roy Carrier, Corey Arceneaux & the Zydeco Hot Peppers, and Thomas "Big Hat" Fields, Shane was at one time approached by the late Beau Jacque to be a part of his band. Not realizing the honor of this request at the time, Shane had his sights on the opportunity to record in the studio with his second cousin, Corey Arceneaux. His personal goal became a reality after recording scrubboard on Corey's "Hot Pepper" album and drums on "20/20." Unbeknownst to many, Shane Bernard had been aboard Horace Trahan's Ossun Express since 2001. He's been a recurrent and avid drummer of the band ever since.
Russell "Sly" Dorion, Sr. – Guitar/Voicebox